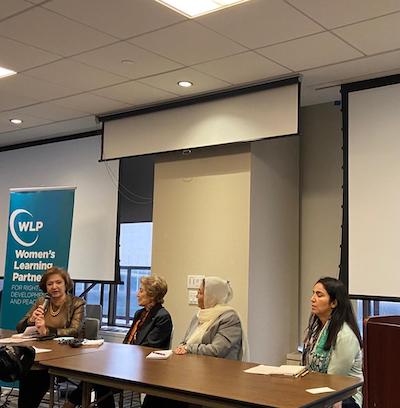 The 67th edition of the CSW/UN – United Nations Commission on the Status of Women – takes place in New York from March 6th to 17th.
CSW is the leading intergovernmental body dedicated to promoting gender equality and women's empowerment, bringing together representatives of UN Member States as well as representatives of various UN agencies and NGOs that are accredited to the Economic and Social Council of the United Nations. United Nations.
During this period, official and parallel events are taking place. The Women's Learning Partnership (WLP) hosted two meetings. The Rights and Resistance: Strengthening Movements for Freedom and Equality in Iran and Afghanistan having as speakers Mahnaz Afkhami, Founder of WLP and Former Minister of Women of Iran; Habiba Sarabi, Former Minister of Women of Afghanistan and Zala Ahmed, Executive Director of a NGO working with girls and women in Afghanistan. The event was mediate by Nadereh Chamlou, a member of WLP Board of Directors, and also had poetry reeadings.  The meeting sought to contextualize the situation in each of these two countries and reflect on strategies that the international community could adopt to empower girls and women, including the role of education and technology in this process.
The other event Reframing the Climate Conversation: an urgent debate on the intersectionality of the Climate Crisis, was held in partnership with the  Commission of Refugee Women and was attended by representatives of several organizations, including Wedo, Amnesty International, CEADER /Nigeria, Human Rights Watch, ADFM/Morocco, among others.
Andrea Romani was present at both events representing CEPIA as well as a a member of WLP Regional Coordination. Andrea reinforced the importance of approaching the climate crisis with  social lens, understanding that the effects of the climate crisis are crossed by markers of race/color, class, affecting girls and women from all over the world on a disproportionate way. She also highlighted the fact that human rights violations goes hand in hand with environmental violations, being Brazil a clear example when comparing the former government and the current government.