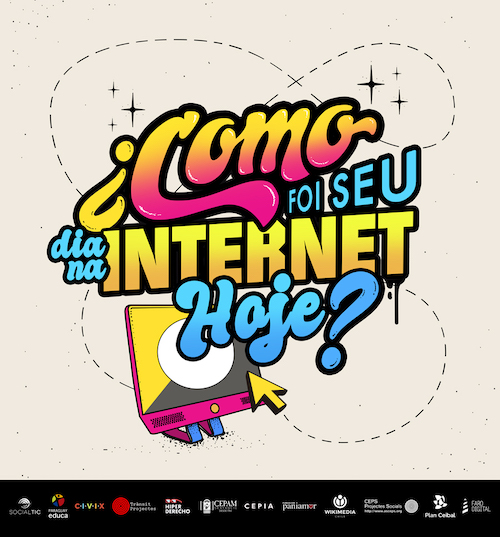 CEPIA, along with other Latin American and Spanish organizations, launches today the Ibero-American Campaign  How was your day on the internet today?  coordinated by Faro Digital, an Argentinean NGO.
Boys, girls and young people inhabit the social spaces of the internet, such as social networks, video games, streaming platforms, creating their identity and community territories, where much of their socialization and communication takes place. The campaign aims to provide quality adult support in digital spaces, by raising awareness of the educational, emotional and care needs of children, adolescents and young people.
Among the activities of the Campaign are:
Posts in digital media with advice on how to follow children, teenagers and young people on the internet, as well as an open and free training session, on November 22nd and 23rd, in which four virtual workshops on the following themes will be offered by Faro Digital:
. Screens/monitors and childhood: tips for each family to know how to monitor the use of screens in early childhood and childhood: quantity and quality of screens, types of devices, adult referrals, risk prevention and how to deal with access to inappropriate information.
. Digital coexistence: everything we need to know about grooming and cyberbullying: definitions, prevention strategies, case management and complaints.
. Screens/monitors and teenagers: advice to accompany teenagers in the main challenges that screens present at this age: dependence, sexualities in digital environments, adult reference and emotional impact.
. Digital Gender Violence: what are the ways in which gender-based violence manifests itself in digital environments, what elements of the internet modify or enhance it, and what are the tools to make it visible, prevent, monitor and report cases.
Finally, a roundtable will be formed with the presence of Juliana Raffaghelli, an Argentine academic specializing in educational technology, algorithms and open data culture, and the participation of representatives from each of the organizations that make up the campaign, where they will speak and work on datification ( information transformed into data) and the different intersections between artificial intelligence, algorithms, learning machines and how this impacts our lives (from identities and relationships, to the fulfillment of human rights).
Along with Faro Digital are part of the Campaign the following organizations: Plan Ceibal (Uruguay), CEPIA (Brazil), Fundación Wikimedia (Chile), Civix (Colombia), CEPAM Guayaquil (Equador), CEPS (Spain), Hiper Derecho (Peru), Fundación Paniamor (Costa Rica), Paraguai Educa (Paraguay), Transit Projectes (Spain) e SocialTIC (Mexico).