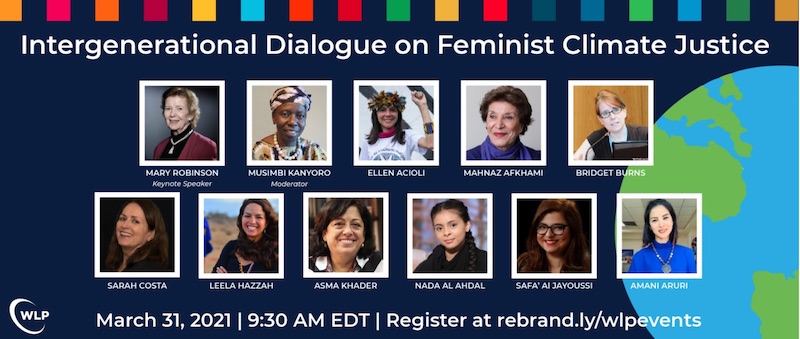 On March 31, the international organization Women's Learning Partnership , in conjunction with the NGO SIGI (Solidarity Is Global Institute-Jordan), from Jordan, will be promoting an intergenerational dialogue on climate justice and feminism, presenting the perspectives of women rights defenders and leaders young.
This is the second event in the Feminist Forum on Climate Justice series and this one marks the launch of the International Youth Conference promoted by SIGI / Jordan. Panelists will discuss women's leadership and holistic solutions for a safe and sustainable future for all.
To register click here
The event features an opening presentation by Mary Robinson, former president of Ireland.
Opening Remarks
Mahnaz Afkhami | Founder and President of Women's Learning Partnership
Keynote Speaker
Mary Robinson | Former President of Ireland, Chair of The Elders
Moderator
Musimbi Kanyoro | Board Chair of Women's Learning Partnership
Comments on 17th Annual Youth Tech Conference
Asma Khader | Chief Executive Officer of Solidarity Is Global Institute-Jordan
Panelists
Ellen Acioli | Co-founder of the Suraras do Tapajós Indigenous Women Association in Brazilian Amazon
Nada al-Ahdal | Chairman of Nada Foundation for Child Rights Protection
Safa' Al Jayoussi| Climate Justice Advocate
Amani Aruri | Member of Generation Equality Youth Task Force
Bridget Burns | Executive Director of Women's Environment and Development Organization
Sarah Costa | Executive Director of Women's Refugee Commission
Leela Hazzah | Co-founder and Director of Lion Guardians & Women for the Environment Africa